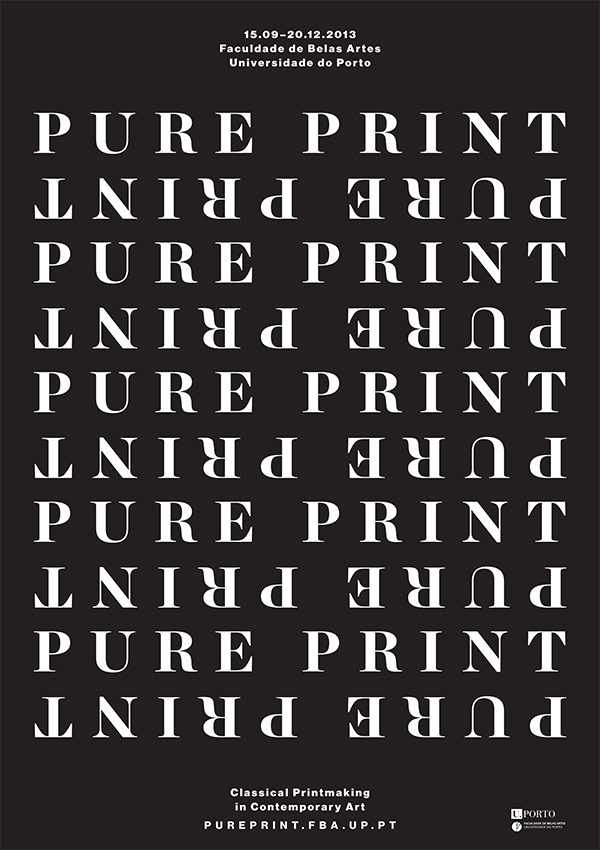 Pure Print: Classical Printmaking in Contemporary Art – International Meeting will happen between the 16th September and the 31st December 2013 and it will be developed throughout workshops, demos and exhibitions presented by professional artists engaged in printmaking, glass and ceramics.
This event will be characterized by singular research in printmaking including:
1. Series of Workshops distributed and thematically organized along four months, resulting from the invitation of prestigious artists familiar to the field.
2. Main Exhibition (28th November to 26th December 2013) gathering the works of the invited artists, confronting the relations between the classical printmaking techniques and the various experimental contemporary contexts of the current practices.
3. Free access to technical Demos that will occur in different spaces based in the current practices of the invited artists, trying to replicate their work environment.
4. Talks that will accompany workshops, demos and individual exhibitions, crossing printmaking techniques and disciplines.
5. Conference to be scheduled in 2014 and organized in thematic panels, presenting abstracts/papers and experimental projects/demos of short term.
The first International Meeting on Classical Printmaking, to be initiated at Faculty of Fine Arts of the University of Porto, intends to give an overview of a non limitable experimental field, with a focus on the creation of fine art printmaking. Most of all, it's about setting up a program of workshops exploring the impact of classic printmaking in contemporary art practice. From September to December 2013, artists, internationally renowned experts, professional printers and professors will share their expertise, lifelong experience, present positions and how their innovative practices are based on traditional techniques. The continuing program of workshops, demonstrations, lectures, open lectures and exhibitions will be a showcase of how artists are exploring and using the tools, the techniques available and the myriad of opportunities to create unique objects. At the very center of this project, reuniting print practitioners from Bel­gium, Brazil, Canada, Estonia, Italy, Japan, Poland, Portugal, Spain, UK, Turkey, Netherlands,  Ireland, Portugal, relies on the transmission of a direct and practically oriented exchange, based on the presence in the workshops of the invited artists. The overall program will transmit how current approaches in printmaking freely experiment with technical limits, merge techniques and go beyond ordinary dimensions. It will be a celebration and practical exploration of contemporary print developments.
Workshops will introduce techniques such as woodcut, photo intaglio, mezzotint, intaglio printing techniques, photo-lithogra­phy, paper mounting techniques, computational intaglio, etching, engraving on glass, sandblasting, laser, decals. Each invited artist will be demonstrating how to explore the language of the past to create within the present; how their practice, sometimes com­bined with the endless options of digital printmaking, or in its purest form, can build a contemporary discourse of print; have a stronger knowledge on conception and execution of contemporary printmaking. Participants will have access to historical and recent advances in technology, will share the engagement with materials, procedures and gain access to the prints and drawing collections that can teach each individual where to start to explore its own future concepts.